2016 Brahman BBQ Battle
Date Posted:5 June 2016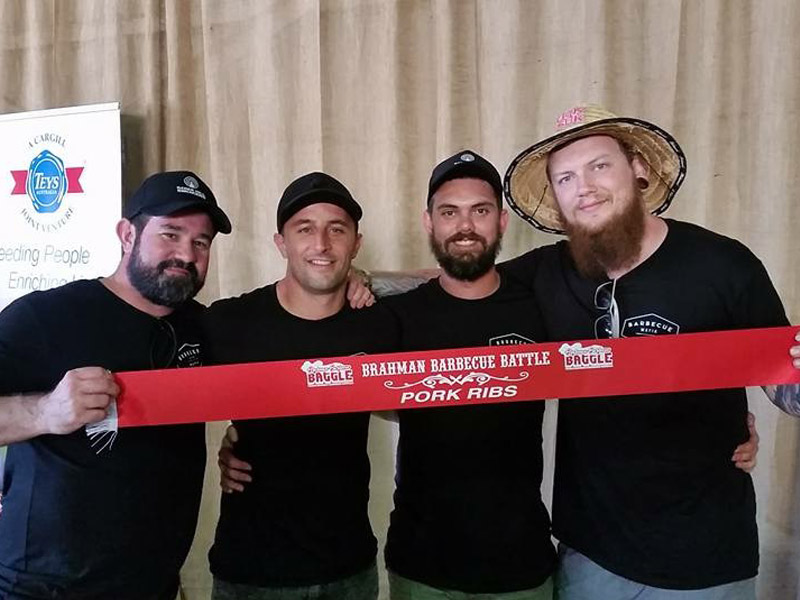 Six hours drive north of Mafia HQ on the Bruce Highway you enter the famous Fitzroy Basin and prime grazing land for the Brahman, a breed of cattle that are renowned for their tolerance of extreme heat and their distinguished hump used for food and water storage in times of drought.
Low and Slow BBQ Guru, Gareth Dosser from Barbecue Mafia writes this great recap of our efforts at the 2016 Brahman BBQ Battle.
For a competition BBQ team, the Rockhampton Brahman Battle could be compared to a Christian pilgrimage to the Vatican. Rocky is known as the beef capital of Australia and one thing the Mafia likes to cook is good old Aussie beef.
Matt and Fiona from The Smoking Yak were the brainchild behind the Brahman Battle with their main motivation to showcase the "Brahman Hump" as a legitimate beef option to the wider population. The event was an invitational and had some of Australia's best competition teams in The Shank Bros., Double Barrel BBQ and The Smokin' Hot Bros.
Upon our arrival into town, we were welcomed with open arms (and some weird looks) as our smoker "the Don" strutted through town towards the Rocky Showgrounds. Driving through the gates we were greeted with an abundance of RM Williams boots, Stetson hats and Wrangler jeans. We definitely weren't is Brisneyland anymore! Setup was complete and our new customised marquee, care of Aussie BBQ's, was unveiled to the world. Our new home away from home was quoted as "the Taj Mahal of BBQ Marquees" and all were in awe (apart from one local Lions' volunteer who we aptly named "Buzz Killington" for his frequent intervention and criticism of our site setup).
Pit Lane was looking the part with all teams up and about with their setups, and soon we were all called into the briefing area by Adam from the Australian Barbecue Alliance to go through hand in times and competition rules. Our newest member Ryan, aka "The Swine Whisperer" and resident tattoo canvas, was getting his first taste of what BBQ competitions entailed. Rules and Regs were completed and we were all then given the chance to choose our Brahman Humps for the comp. Brahman Hump is a very fatty, marbled cut of meat and is best eaten when slow cooked to enable the fat to render right down. Once we had these we were ready to rock and roll in the five categories of Beef, Lamb, Pork Ribs, Seafood and Brahman Hump.
Start time for the comp was 4pm on Friday and hand ins were due on Saturday from 10am up until 1pm. This gave us a total of 18-21 hours to prep, cook and present all five categories. To add to the complexity of timing all of the cooks to perfection, we also decided to sell our signature Brisket Cheeseburgers to the Rocky public from 12pm on Saturday. This involved adding five beef briskets into our cook which can be tricky due to their size and the length of time that briskets need to cook and rest before service. We were living BBQ comp life on the edge! Once times were worked out we then planned when each of us would try and get some sleep, another important element in competition BBQ. For our last three comps we had also booked a hotel room which helps when you want to get away to sleep for a few hours. Sometimes the competition pit area gets pretty rowdy and sleep is near impossible.
At 1am "the Don" was fired for another long competition cook. Getting our pit up to our optimal temp normally takes 30-45mins and can be tricky if you don't have the basic fire skills. Once on the smoker, we checked and soothed the different proteins like they were newborn babies until early morning when most of it was taken out, wrapped and then put back in to finish off. All the while prepping for our burger service. As deadlines drew near, the ever exciting job of parsley pruning began so that our hand-in boxes looked professional and inviting. It's fair to say that Ryan and Drew could easily get jobs as curators at the MCG with their green-keeping skills. As each category was being boxed up and shipped off to the judges, the relief in the Mafia Marquee was beginning to increase. That was until we saw the punters beginning to loiter for our Brisket Cheeseburgers that were due to be served from 12pm. We all were a little skeptical about how well our burgers would go in Rocky considering nobody really knew who we were, but that was put to bed when we opened for service and the line-up was 20-30 deep. We ended up selling out in a total of 38 minutes! We were absolutely blown away by the support from the Rocky community and absolutely loved it! At one stage our good friend Chris from The Smokin' Hot Bros. dropped everything and jumped over to help us cut up brisket and prepare buns! What a champion and a testament to the close-knit low 'n' slow barbecue community.
As 1pm rolled around, our Brahman Hump was handed in, the good people of Rockhampton were fed and our job was done. We were pumped with each hand in and for us as a team, that is the ultimate goal and motivation. We had a quick clean-up and a few tasty lagers and we were off to the awards ceremony. The scoring was tight with some categories being separated by a couple of points. We were hoping for a few call ups but you just never know what the judges are looking for in terms of taste, texture and appearance. The Pork Ribs results rolled around and we ended up getting 2nd which we were absolutely stoked about as it is a hard category to win. We saw the majority of teams earn a place amongst all of the categories with "50 Shades of Pork" winning the inaugural Brahman Hump category. It was down to the competition grand champion and it was going to be close with strong showings from the ever consistent The Smoking Hot Bros. and Double Barrel BBQ and the Flaming Mongrels having the comp of their life getting three category places. The winner and Brahman Battle Grand Champion - THE FLAMING MONGRELS.
What an effort by Brett and the boys to take out such a great event with some of the best teams in Australia - greasy high fives from everyone! To Matt and Fiona, an event that they should be proud of and one that will only grow every year I am sure.
We are really looking forward to the Brisbane Low and Slow BBQ Festival!
Cheers, Gareth.
Mafia Out.
---
Leave a comment