Smoked Cheese Steakout Burgers
Date Posted:19 June 2018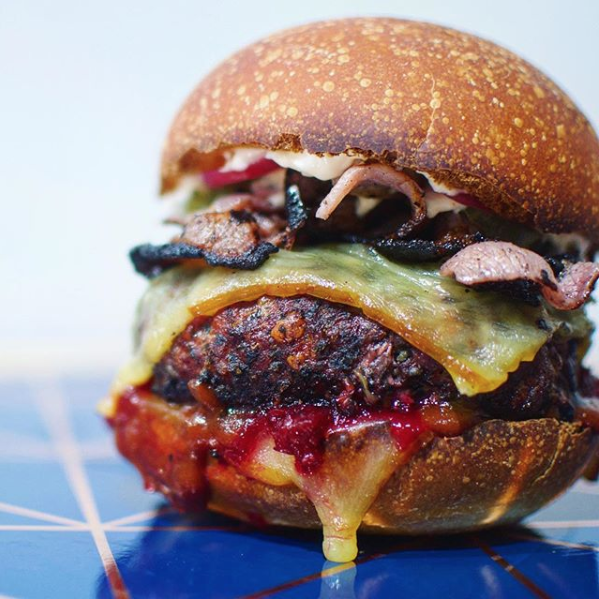 Here's a top recipe that's sure to be a winner - Smoked Cheese Steakout Burgers
Ingredients
1kg good quality mince beef
1 cup grated smoked cheese
1/2 cup fresh chopped herbs (try, parsley, chives, thyme, oregano)
2 slices free-range bacon, finely diced
1 large red onion, finely diced
1 tsp crushed garlic
2 slices of fresh bread
1 egg
1 tbsp Barbecue Mafia Steakout
olive oil
Method (patties)
Put a frying pan over low-medium heat, add splash of olive oil and the diced onion. Cook gently, stirring frequently, until onions are soft and sweet. Set aside to cool.
Pulse bread slices in a food processor to make a coarse crumb.
Add mince, onions, grated cheese, herbs, finely diced bacon, garlic, egg and Mafia Steakout to a large bowl with half the bread crumbs and mix together with your hands. If the mixture is too wet, or not holding together, gradually add remaining bread crumbs until the mixture just holds its shape. If it's too dry and breaking apart, then add another half of an egg.
Tip the mixture onto a bench or board and form into 6-8 patties depending on desired sized (note: the mix can be cut to any size/quantity you prefer but 8 tends to be a good size).
Refrigerate patties for around 2 hours, or wrap and freeze for future use (note: you can make these in bulk and freeze some of quick weeknight dinners).
Method (cooking)
Set up grill fro 2-zone cooking and preheat to a medium-high heat.
Give patties a light cover in olive oil then dust in Barbecue Mafia Steakout.
Cook patties on the indirect side of the grill until 70 degrees Celsius internal temperature.
Sear over direct heat for 2 minutes, or until they form a good dark crust.
Our favourite way to enjoy these patties is to create a BBQ bacon triple smoked cheese brioche burger. <Drool> You'll need:
1 brioche bun
2 slices smoked cheese
beetroot relish
bacon slices
gherkins
BBQ sauce
mayonnaise
Recipe and image credit: Jamie Stuart, @jstuartnz